>>>> How did I find out about this book? <<<<
How did I hear about this super book? On a morning walk recently, I was listening to Drew and George on the
Genealogy Guys
podcast on my old 2006 iPod. Although the podcast episode I was listening to was from
3 March 2013
, I only caught up on this episode about three weeks ago - that's the great thing about podcasts ... you can listen to them anytime, no matter when they were broadcast. Drew and George spoke about a fantastic book called
Out of Style: A Modern Perspective of how, why and when vintage fashions evolved
, published in 2013 and written by Betty Kreisel Shubert. Because I was in the first stage of planning an episode about ancestors' clothing for my own podcast
Genies Down Under
, I couldn't believe how lucky I was to find out about this book. So, thanks Drew and George for sharing this information with your listeners! As soon as I arrived home from my morning walk, I jumped onto Amazon.com and ordered the book.
>>>> How does this book relate to the Genies Down Under podcast? <<<<
Just one day after I uploaded the October episode of the
Genies Down Under
podcast (
Clothing stuff for genies: Investigating the fashions of your ancestors
), this wonderful book arrived on my doorstep. I'd ordered it a few weeks ago, hoping that it would arrive before I had finalised the October episode. Although I was disappointed the book didn't arrive before the end of September (which meant I couldn't include it in the most recent podcast episode on ancestors' clothing), the October episode was great fun to make because I had some lovely listeners of the
Genies Down Under
podcast who emailed me stories about their ancestors' clothing. Their stories covered many aspects of fashion, including shoes, jewellery and clothes. Check out the stories on the
Episode 25
of the
Genies Down Under
podcast or on the
shownotes
. In the November podcast episode of the
Genies Down Under
podcast, I'll include some of the great ideas that Betty Kreisel Shubert presents in her book
>>>> Where can I get a copy of this book? <<<<
Betty Kreisel Shubert's book is called,
Out of Style: A Modern Perspective of how, why and when vintage fashions evolved
, and was
published in 2013. The book costs around AU$22-30 in paperback version from Amazon.com. Although the book was written and published in the US, the tips, examples and explanations are also useful for genealogists researching their ancestors in Australia.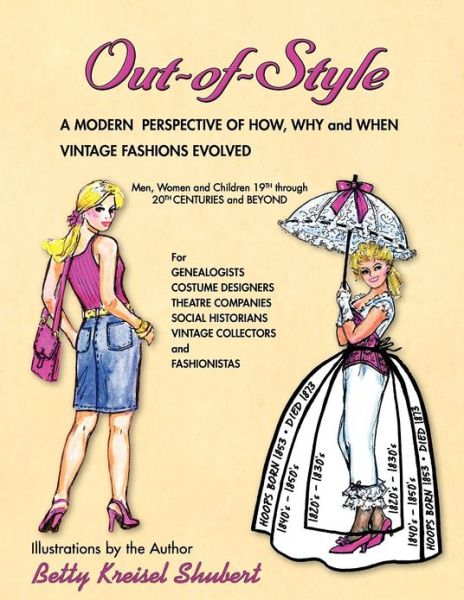 >>>> What's so great about this book? <<<<
Here are some highlights from the
Out of Style
book:
Two main sections:

Part one: 19th century 1830-1900 and Part two: 20th century 1900-1960

Instructions for photograph analysis.

An entire chapter on How to trace your ancestors ... Literally! In this chapter, Betty provides a great set of methods for analysing your ancestors' clothing shown in old photos by tracing the main features of the clothing from an old photograph and then analysing these features in terms of hair, collar, necktie, coat, vest and pants (for men) and hair, bodice, sleeves, skirt and jewellery (for women).

19th - 20th century.

Since most of the photos I'm trying to date in my family history collection are from the 1850s through to the early 1900s, this book will give me plenty of clues to add a bit more authority to my estimates based on guessing my ancestors' ages.

Illustrations.

The annotated illustrations in this book are so, so intricate. The author really seems to know what she's talking about. I have to admit I was a little disappointed by the lack of photographs (there are just a handful) in the book but the illustrations made up for my disappointment.

Men and women's clothing:

Although female ancestors' clothing is probably easier to analyse and date, this book also provides plenty of information about men's clothing.
At

350 pages

I definitely feel like I got my money's worth with this book.
>>>> How did I use this book for my family history research? <<<<
Here is an example of how I analysed one of my ancestors' photographs using Betty's book.
Before I received Betty's book, I did know some information about the photograph of my ancestor.
The photograph below is a studio portrait photograph of my great-great-grandmother, Catherine CARRICK (nee HIGGINS). Catherine was born in the town of Tuam in County Galway, on the west coast of Ireland about 1838. She moved to Macclesfield, County Cheshire in the UK at some stage before she married Thomas CARRICK in 1859 at the Church of St Philip and St James, Chapel St, Edgeley in the District of Stockport, in the Counties of Cheshire and Lancaster.
Thomas and Catherine CARRICK had a number of children and sailed with their five surviving children, Mary Anne, Thomas, Patrick, Honora and Catherine, to Sydney in 1880. They lived in the Rozelle and Balmain areas close of Sydney. Catherine died in 1904 and is buried in the Catholic area of Rookwood cemetery in Sydney.
The following photo was sent to me by one of my distant cousins, a descendant of Thomas and Catherine CARRICK's daughter, Honora CARRICK. The photo was taken in Sydney in the Eden Photographic studio.
From the book titled The Mechanical Eye in Australia, Photography 1841-1900 (shown to me a few years ago by another genealogist in my family), I found out that Eden (Society Studios) operated from 805 George Street, Sydney from 1895 to 1897, and then from 1897-1900 at 725-729 George Street Sydney, as George Eden Proprietor. This information means that the photo below was taken somewhere between 1895 and 1900, when Catherine was 57-62 years of age. In the photograph below, I think Catherine looks closer to 57 than 62 years of age, so I guess that the photo was taken closer to 1895 than 1900.
By using Betty Kreisel Shubert Out of Style book, I worked out that:
Catherine's sleeves were typical of fashions in the 1890s: "Starting as small vertical puffs in the late 1880s, by the early 1890s sleeve caps had grown into leg-o'-muttons or ballooning bishop sleeves. Each year they grew bigger, reaching their most extreme size and greatest popularity between 1895-1898" (from page 157

in

Out of Style).
The narrow waist on Catherine's dress was also quite typical of the day: "Waists were as small as corsets could squeeze them. Combined with top-heavy sleeves and bell-shaped skirts, the Hour Glass Silhouette was 'the look' of the decade" (from page 157

in

Out of Style).
Catherine's hairstyle was also common for the period: "Repeatedly seen in vintage photographs of average women are simple, pulled-back, sometimes careless hairstyles, without added hairpieces. Bangs were gone, foreheads were clear ..." (from page 163

in

Out of Style).
The style of dress worn by Catherine was also typical of this time. In her book, Betty describes a dress designed and made by her grandmother as described on page 163 in Out of Style. The description of Betty's grandmother's dress included very similar features to Catherine's dress. Betty describes the main features of her grandmother's dress as follows:
- two-piece brown dress
- beautiful handwork of tiny cross-stitches that held featherbones onto every seam
- a narrower stiffened sleeve supported the large outer sleeve
- Betty dated her grandmother's dress as 1896-1898 because sleeves were "at their most extreme" during this period
- a separate velvet collar topped the V-shaped yoke on the bodice
The buttoned-up front of the top of Catherine's dress is very similar to the illustration depicted in "The Nine Sequential Phases of the Rise and Fall and Rise (Again!) of the Bustle" (from pages 20-21 in Out of Style), especially as the illustration in the book also shows a high neck with a squarish centrepiece at the neck. Bodices and jackets are described as similar to the one worn by Catherine: "Bodice/jackets: Jackets were short again, with small buttons going all the way up to the neck. All had a tight, tailored, corseted look (from page 29 in Out of Style).
>>>> How long does it take to analyse an ancestor's clothing using this book? <<<<
All in all, although I did have a fair idea of when the photograph was taken, the
Out of Style
book about how vintage fashions evolved really did give me a definite way to analyse this ancestor's clothing as shown in a studio photograph above. The whole process of analysing Catherine's photograph, with Betty's book as my guide, took just under one hour.
Please note that all the photo analysis above was undertaken with good old-fashioned printed books. Although I absolutely LOVE using the internet for my family history research, I am constantly reminded of the value of non-online resources.